Fitting the Space
Not enough wall space for a building directory? Need a customized unit that can be showcased in the lobby or guard desk? Freestanding building lobby directories are the perfect option for unique locations where spatial considerations, traffic flow, or lobby design require something different than a mounted directory. Tablet and Ticket offers high quality, custom freestanding building directories and flexible wall mount directories. These are available as monolithic units, pedestal base, or can be integrated seamlessly with a guard station or reception desk. All units are offered with rear illuminated or non-illuminated options and for interior or exterior use.
Fitting the Design Surroundings, Surrounding Decor
A freestanding directory may stand alone, but it must fit harmoniously with the surrounding design and decor of the lobby. Custom integration with existing design features is something we shine at—something which isn't available with standard catalog orders. Custom design features include:
Sturdy cabinets that pick up the materials and colors in the lobby
Custom headers and banners
Options in shape and size
Finishes in aluminum clear, dark bronze, black or painted acrylic polyurethane, stainless steel and brass/bronze, polished, oxidized or brushed
Frameless or framed doors
Rear illumination or top illumination in florescent or LED lighting
Name strip, floor plan, and/or map backgrounds
Integration with existing guard desk or reception desk area
Fitting the Budget
Did we mention that we work from design stage to finish to stay within your budget? Tablet and Ticket has over 100 years of experience manufacturing building directories and signs. We offer in house design and manufacturing on 98% of the work, so there are no headaches or surprise costs from multiple vendors.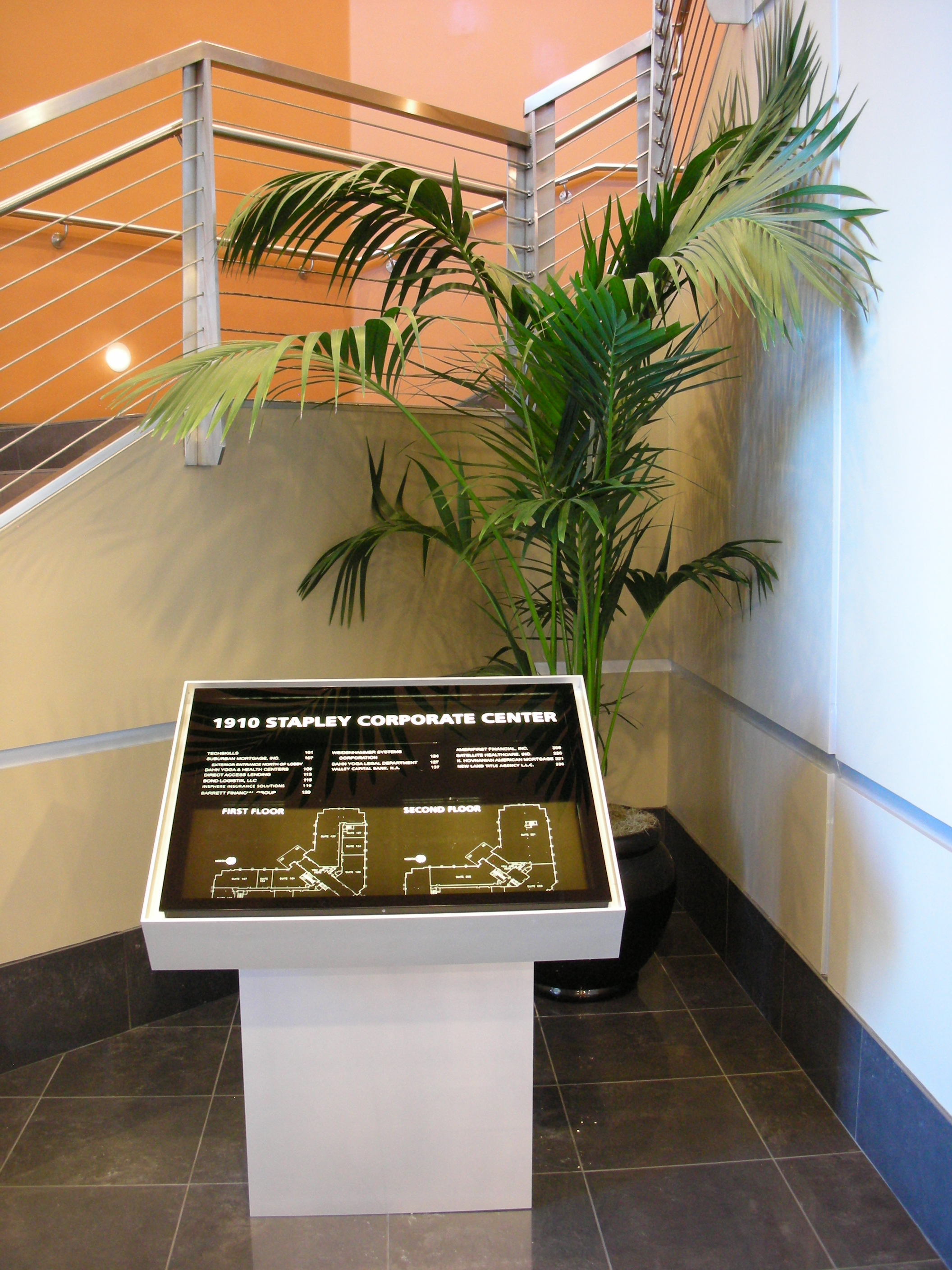 Freestanding Directory Options
The freestanding units are available in the clean, finished look of the 1000 Series and the slightly smaller 850 Series. Contact us for assistance on finding one that's the best fit for your needs.
1000 Series Lobby Directory
Our most flexible wall mounted directory is equally as versatile as our freestanding building lobby directories.
While the directory may be incorporated into a custom stainless cabinet, a guard station, we also offer a simple yet functional pedestal base.
850 Series Lobby Directory
The 850 Series offers a clean look with a choice of three sturdy profiles; bevel, radius, or square. These units lend themselves to recessed installation with a 1-1/4″ reel. The richness of "floating" white text in a black field with rear illumination. Suitable for exterior use with top illumination.